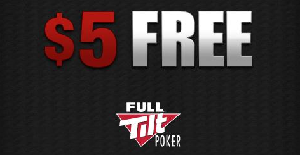 The newest free bonus from FullTilt is smaller than their earlier one of $10. This new bonus adds up to a total of $5.20 if you manage to get all of it, which makes it one of the smallest of all the free bonuses available. Still, you don't need to make a deposit to get it, so that is alright.
You must not already have an account at FullTilt if you want to claim this offer.
It is available to players from the United Kingdom and Ireland, Canada, Australia, New Zealand, Finland, Iceland, Germany, Norway, Sweden, Austria, Liechtenstein, Luxembourg, Switzerland, the Netherlands, Portugal and Russia.
In order to start getting the free money you need to create an account at FullTilt. You can do that with this link to FullTilt Poker. If you go directly to the FT site this offer is not available, so use the link.
Get the FullTilt no deposit bonus here
Once you have your real money account set up, open the poker software and select the "New to the Game" PLAY money sit and go tournaments. They must be on the 'Play Money' tables and specifically called 'New To The Game'. Play as many of those that you like. For every time you finish in the money, so to speak, in any one of those tournaments, you will get a $0.50 token for an entry to a REAL MONEY 'New To The Game' tournament.
You can earn up to 6 of those $0.50 tokens.
For the next part of the bonus, you will get a $1.10 scheduled tournament ticket every time you finish in the money in one of the REAL MONEY 'New To The Game' tournaments, up to a maximum of 2.
It does seem like a bit of work to collect all of the bonus, but it is a way to get real money on FullTilt without having to make a deposit, so it might be worth the effort.
The first version of this bonus was better, but I guess it cost too much. This new bonus should work out better for players that are reasonably good at poker, than for beginners. And the practice at the play money tables might improve your game somewhat.
About Full Tilt Poker
This is the new incarnation of FullTilt. After all the drama of the last few years, FT was finally bought by PokerStars, and they are currently operating it as a seperate poker room, although you can associate your Poker Stars account with your FullTilt account if you want.
Doing that will mean that you can transfer money between the two accounts. So if you do well with this free bonus, you could transfer some of your winnings to your Stars account without depositing there.
This new FullTilt is licenced in the Isle of Man, which is much better than their last licence (from Alderney).
Even though the site is not long back online, it is now the third most popular online poker site. That means that there will be lots of players online at most times. They no longer accept American players though.
New FullTilt Free Bonus

,