There are two different versions of this Bwin Poker Bankroll available, depending on which country you are from.
Both of these free bankrolls are provided by the well known poker bankroll site YourPokerCash and they are both 'no deposit required'.
The first deal is for a total of $50 for free at Bwin. You get $25 up front and a further $25 when you earn the required player points, which is 150. You use the initial $25 to play poker at Bwin and earn the needed 150 points to release the extra $25, for a total of $50 for free.
This $50 bonus deal is available to players from Spain, Canada, Belgium, Chile, Czech Republic, Denmark, Georgia, Germany, Iceland, Ireland, the Netherlands, New Zealand, Norway, Panama, Paraguay, Portugal, Slovakia, Sweden, Switzerland, the United Kingdom and Venezuala.
Get the Bwin Poker Bankroll here
The second deal is for a total of $200, but the upfront amount is $10. Players get another $10 free after they earn 100 player points, with the remaining $180 released into their account when they earn 500 player points.
This second deal is for players from Bosnia and herzegovina, Bolivia, Costa Rica, Indonesia, Moldavia, Morocco, Peru, Russia, Thailand, Turkmenistan, Uzbekistan and Vietnam.
You are not required to make a deposit to get either of these bonuses.
Please note that this bonus is given by YourPokerCash, and not by Bwin. This means that you need to sign up with YourPokerCash before you signup with Bwin. When you create your YPC account, you will be given the bonus code to use when creating your Bwin account. If you do not do this correctly you will not be eligible for the bonus.
As with all YPC bankrolls, this Bwin offer is for players that do not already have an account at Bwin Poker.
About Bwin Poker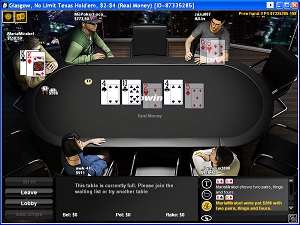 Bwin is one of the bigger poker sites online since they joined with Party Poker, and that network is now one of the top five busiest poker networks. While technically a network, there are only a few different skins using it, most of which were Party Poker skins anyway.
Bwin is primarily a European sportsbetting site, and is well known for its football sponsorship. This tends to mean that there are a lot of less-skillful players at their tables, which is of course good for new players trying out the site using this free bankroll.
Recently, Bwin has begun segregating their player base according to the individual players' win rate. This means that newer, less experienced players do not end up playing against more experienced, or professional players. This is great for beginners, but perhaps not so good for professional and semi-professional players that were profiting from playing against beginners.
The latest version of their softwware is pretty good now, having gone through some changes and bug fixes since its launch.
Bwin Free Bonus from YourPokerCash

,