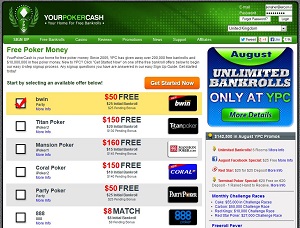 YourPokerCash is one of the biggest and longest running of the free poker bankroll providers. YourPokerCash have free bankrolls at multiple poker rooms at the same time, and accept more countries than any other provider.
The site has been online since 2005 and in that time has grown to be one of the top bankroll providers with hundreds of thousands of members. They have quite literally given away millions of dollars to their players.
You do not need to make a deposit to get any of the free bankrolls available to you on the YourPokerCash site.
The available poker rooms change from time to time, but currently there are bonus deals available at seven different poker rooms. The most popular ones right now are the Bwin Poker bankroll of $50 and the Mansion Poker bankroll of $160.
Get a YourPokerCash free bankroll here
There are two aspects of the YourPokerCash (also known as YPC) business model that make them stand out from other similiar sites. First, they allow you to claim as many bankrolls as you are eligible for. Some other sites do that too, but many of the sites that have multiple bonuses on offer at different poker rooms only allow you to choose one poker room from those available. YPC don't have this restriction. The only requirement for claiming multiple bankrolls, other than the country restrictions, is that you must complete your current offer before claiming another one.
The second notable difference between YPC and other providers is that they do not require you to take a poker quiz in order to get the free money. This is the way it used to be among all sites offering poker bankrolls, but slowly it changed to the current system where most providers now require that you prove you are able to play poker before giving you their money.
While each individual poker bonus deal will have its own terms and conditions, in general to claim a YPC bankroll bonus you must be 18 years old or more, and you must not already have an account at the poker room where you want to get the free money.
Further, you can only claim one of each bonus, so the bonuses are limited to one per computer i.p. address and/or your physical home address.
Each poker room involved in the promotions will have restrictions in place on the countries that they accept players from. This is the poker rooms own restriction, and there is nothing that YPC can do about that. In general though, they allow more countries than other sites that operate in this area.
This site never developed a members forum, which is a little bit unusual, but they are very active on the more popular social networks, especially Facebook, and run promotions specific to Facebook for their members quite often.
Further to that, they operate a fairly good customer support desk which you can contact by email or by using the form in your members area.
Identity Verification
All members that want to claim any bankroll deal will be required to prove their identity. This is standard procedure for all sites that offer poker bonuses for free. As we said above, YPC has been online and in business since 2005 so there is no question of their legitimacy, and they operate a very professional business.
While you should always be careful when sending any documents to any site on the internet, and take suitable precautions, such as blanking out sensitive account information and numbers, you can be reasonably confident in the security of your information in regards to YPC.
The verification process involves you receiving a code from YPC and writing it by hand on your identity document, then sending that to YPC. If you fail to do this your verification will be rejected. Follow the instructions on the site carefully so that you do not lose out on any free offer that you may be entitled to.
You only need to verify your identity once, and then you can claim as many bankrolls as you are entitled to.
The YourPokerCash site is pretty clear and informative, so take your time in finding out exactly what you are required to do.
YourPokerCash Free Bankrolls

,