This is another very popular bonus from YourPokerCash, this time for either a free $50 or free $200 at Party Poker.
The amount of the bonus available to you will depend on the country that you are from, similiar to the Bwin bankroll from YourPokerCash.
The first bonus option is for $25 upfront and a further $25 on earning 150 player points. This bonus is on offer to players from Canada, Chile, Czech Republic, Denmark, Georgia, Germany, Iceland, Ireland, the Netherlands, New Zealand, Norway, Panama, Paraguay, Peru, Portugal, Slovakia, Spain, Sweden, Switzerland, Venezuala and the United Kingdom.
Claim the Party Poker Free Bankroll Here
These bonuses are for new players at Party Poker only, so even if you only have a play money account at Party you will not be eligible. For players that do not already have an account at Party, and are from eligible countries, you will not need to make a deposit to get this bankroll.
The second bonus option is for $10 upfront with a further $190 in pending bonus cash. Once you are approved for this bonus you will get $10 immediately, and a further $10 will be given to you when you have earned 100 player points. The remaining $180 free money will ge given to you when you have earned 500 player points.
This second bonus option is offered to players from Bosnia, Bolivia, Costa Rica, Indonesia, Moldavia, Morocco, Peru, Russia, Thailand, Turkmenistan, Uzbekistan, and possibly Poland. Polish players should check with support if they intend to claim this offer.
Remember, these bankrolls are provided by YourPokerCash, and not by Party Poker. Sign up with YourPokerCash first before claiming this bonus or downloading any poker software. You can read some more about YourPokerCash here.
About Party Poker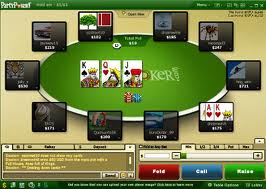 Party Poker is one of the oldest online poker sites, and was always in the top three most popular sites until they stopped taking players from the U.S.A.
Since that time, they have fallen down the ranks somewhat, but they are still consistently in the top 10 most popular poker sites list.
While technically they are on a network, the Party Poker network, in reality there are only a few sites on there, and aside from Bwin, the other sites are original Party skins.
Player numbers are quite good, with weekends being the busiest times, as with all online poker rooms.
The software had gone through numerous updates, but until recently there were still some annoying bugs. These are getting fixed one by one, so you could say the software is improving all the time.
The player base has recently been seperated on the site according to how profitable you are as a player. This is in order to protect their more recreational players from the sharks, and is similiar to the recent split in the iPoker network, where sites with a higher percentage of recreational players were seperated from the professionals by the establishment of two 'tiers', with skins being designated in either tier1 or tier2.
Long term this must be good for beginner players, and those that simply like to have a game of poker at the weekends, but it certainly has annoyed those players that were earning quite a lot from being able to play against all comers. Now those professionals are finding themselves up against equally skilled opponents more of the time.