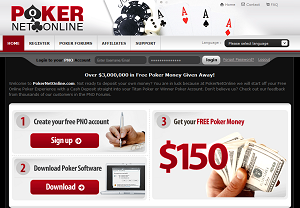 This Titan Poker free bonus is provided by PokerNetOnline. The full bonus is for a total of $150. Once approved for this deal, you will get $15 immediately, and the remaining $135 of the bonus will be released as you earn player points by playing poker at Titan.
If you already have an account at Titan Poker, even a play money one, you will not be able to claim this bonus. You can see more free poker bonuses here. As always the newest free bankrolls are here.
After you have earned 2000 player points at Titan – which you can earn using the initial $15 free – you will get the second part of the bonus, $25, and you can use that to earn even more points. Once you reach 5000 points you will get another $45 for free, with the final amount of $65 coming to you when you reach 10000 player points at Titan.
This offer is available for players from most countries, and in fact, it is one of the easiest free bonuses to get approved for.
There is no quiz for this offer. It is only for players that do not already have an account at Titan Poker. You must be able to open a new player account or you will not be eligible for this.
Get this free bonus – click here
PokerNetOnline
This site has been online since 2006, and their only free offer is now, and has been from the start, at Titan Poker. They did once have an offer at Winner Poker, but it was not popular and was short lived.
PokerNetOnline, or PNO, are a fairly professional outfit, and offer their own support for their players, which is reasonably good. The wait for the bankroll is reasonably short, too, with most players that are approved receiving their free money within two days, excepting weekends. They do say that you should wait five days for approval though, so bear that in mind before you contact support.
There is no quiz or other requirement to prove that you can play poker. The main restriction for the bankroll is the players country, and they accept players from all countries that Titan accepts players from.
Of course you must not already have a player account at Titan. This bonus, like almost all others, is for new players only. You cannot claim the bonus more than once, so there is a limit of one claim per i.p. address, and physical address.
You will be required to prove your identity – this is to stop repeated claims from the same person, and is fairly standard procedure for this type of promotion.
If you do have any problems with claiming the bonus, you should contact the PNO support directly, and not Titan poker. This is the best way to resolve any issue that you might have. Remember though to wait for a few days before contacting support.
To avoid any possible problems, go to the PokerNetOnline site before you do anything else. DO NOT download Titan poker from anywhere other than the PokerNetOnline site, and even before you do that be sure to read the full instructions before downloading anything. This is important because if you do it wrong you won't be tracked properly and you won't get the bonus.
They also have a fairly active forum on their site, where you can ask any questions you may have.
Titan Poker
Titan
is on the iPoker network, specifically on iPoker2. iPoker uses the Playtech poker software.
The network is divided into two levels, 1 and 2, with level 2 being the most preferred level, as it has more players at most times.
Titan is the most popular, and most well known, of the iPoker rooms. As iPoker is a network, there are a lot of rooms that use the same software and share the same player base, so traffic numbers are usually good. Even since the network split, iPoker2 has good traffic and player numbers.
Titan are a very professional poker site, and have been online since 2004. They offer good support, and in most popular European languages, but remember, any problems with this deal should be raised with PNO support, and not Titan support.
Titan does not, at this time, accept players from the U.S.A.
Aside from the Windows version of the software, they also have a Mac compatible version.
Titan Poker from PokerNetOnline

,