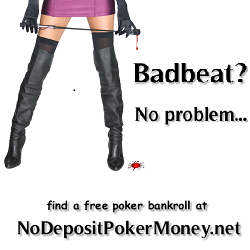 You may be surprised to learn that there are free bonuses available at about twenty different online poker rooms. You can see the full no deposit poker list here. These welcome promotions add up to over one thousand dollars without the player needing to deposit one cent of their own money.
These special promotions can be a great way for players to build up an online poker bankroll with no risk to their own funds. Though many of the bonuses can be considered small, around $10 or less, if you use them properly you can accumulate quite a bit of free cash.
Aside from the obvious financial benefits, these offers are very handy when you want to try out a new poker room. Sometimes you may not want to go to the trouble of submitting your financial details to a site that you may never play in again. Sites like 888 Poker and Betfair Poker offer their new players a direct free bonus of a small amount of cash or tokens so that the player can try out the site and the software and see whether it suits them to continue to play there or not.
If it does suit them to continue to play there, then they will be able to get a deposit bonus from the site too.
The bigger poker bankrolls are usually offered by sites dedicated to providing free bankrolls. Sites like PokerSource and YourPokerCash have built big businesses out of giving money to poker players.
Free Poker Money
When claiming these bankrolls there are a few things that you need to know. First, there most likely will be terms and conditions attached. If you get the cash you will be expected to play poker - and only poker - with it. If there is a casino attached to the poker room you are playing at, you can safely assume that you can not use the money in there.
All these promotions are for new players only, and the sites involved will check that you haven't already received the offer, or already have a poekr account where the offer is available. To check this, they may require you to prove your identity by submitting I.D. documents, or providing a phone number, or both.
Some of the bigger bankrolls require that you already know how to play poker, so they may make you take a poker quiz and expect you to get a good grade. Those sites that do this usually let you take the quiz a number of times, and some of them provide the information that you need to pass on their site.